Covid-19 Ultra-Low Lab Freezers 
Our breakthrough cooling technology makes the Stirling Ultracold line of ultra-low temperature (ULT) freezers uniquely efficient, lightweight and flexible enough to meet today's unprecedented COVID-19 vaccine cold chain deployment challenges.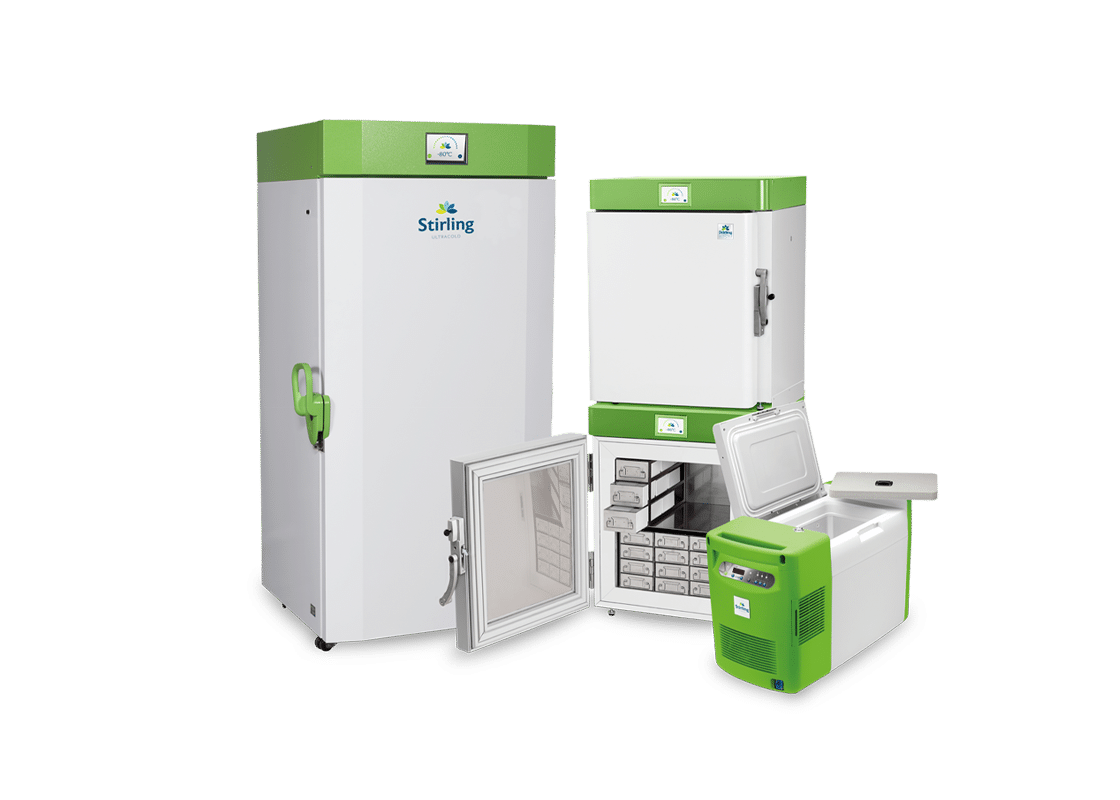 Widest Ultra-Low Freezer Temperature Range
The ONLY commercially available ULT freezers that safely maintain storage temperatures from -86°C to -20°C and meet the cold storage efficacy and temperature requirements of most COVID-19 vaccine candidates, regardless of which are ultimately approved.
Portability
Regional/local leaders are being challenged to get vaccines from central repositories to remote or immobile communities like extended care facilities, nursing homes and rural populations, without breaking the ULT cold chain. This is where traditional standard ULT freezers are too bulky, heavy and generally impractical. The ULT25NEU portable freezer unit is available to help.
SUGGESTED SETTING
Healthcare Facilities
Ideal for quick transportation
between sites with
a battery – carriable.
EXTERIOR DIMENSIONS
692.5 x 350 x 460 mm
(27.3 x 13.8 x 18.1 x in)
L x W x D
WEIGHT
STEADY-STATE POWER REQUIREMENTS
2.8 kWh/day
(avg.power:118 watts at -80°C)
PFIZER VACCINES STORAGE (with racks)
1,400 vials (8,400 doses)
MODERNA VACCINES STORAGE
SUGGESTED SETTING
Pharmacies
Ideal for compact,
undercounter storage and
easy vaccine access
EXTERIOR DIMENSIONS
864 x 711 x 686 mm
(34 x 28 x 27 x in)
H x D x W
WEIGHT
STEADY-STATE POWER REQUIREMENTS
PFIZER VACCINES STORAGE (with racks)
6,000 vials (36,000 doses)
MODERNA VACCINES STORAGE (with racks)
1080 vials (10,800 doses)
MAKE 
CONTACT >
To find out more about Stirling Ultracold's Covid-19 ready ULT freezers please complete this short form here >

DOWNLOAD (Below)

Breakthrough Portability and Flexibility for Remote and Clinical Covid-19 Vaccine Storage
Clinical: Portable and Undercounter freezer models bring -70°C/-80°C COVID-19 vaccine cold storage to all points of patient care.
Multipurpose: The -86°C to -20°C temperature range is adaptable for storage of more COVID-19 vaccine candidates and low-temperature situations, including lab freezer backup.
Smallest Facility Footprint With Lowest Operating Cost
Space: Store more Covid-19 vaccine and biospecimen inventory in less space within our compact footprint. The SU780XLE has the largest cold storage capacity per square foot/meter of floor space in its class.
Energy: Our revolutionary Stirling engine uses less energy per sample capacity to help maintain lower energy costs. Our SU780XLE freezer is ENERGY STAR® certified.
Infrastructure: Significantly reduced power distribution/switchgear, backup power and HVAC system requirements for ultra-low cold storage freezers. Delivery: Product can delivered quickly to help meet critical ULT storage needs.
Setup: Fastest and simplest ultra-low lab freezer installation without modifications to building power or HVAC.