Vaccine storage & handling for ultra-low freezers
Watch this video to see how easy it is for the drug administrator to load and unload entire drawers of vaccines in our undercounter model.
Stirling Ultracold recommends ULT rack system to simplify and maximize vaccine vial storage
Stirling Ultracold continues to supply ultra-low temperature (ULT) freezers around the world for COVID-19 vaccine distribution.  From small, portable freezers used at the point-of-inoculation to large, upright freezers at centralized storage hubs, custom racks organize vial inventory and simplify vaccine administration. Stirling Ultracold has partnered with Custom Biogenic Systems to design racks specific to the COVID-19 vaccine cause.
Stirling Ultracold recommends ULT rack systems to maximize storage
Not only does the use of a custom rack simplify vaccine vial transfer from the shipping container to the freezer, it also reorganizes the vial bundle to better fit freezer dimensions – allowing for higher volume storage and optimized freezer space.  A small vial takes up much less volume than the box it was shipped in – remove the box, increase the number of vials to fit in the freezer – it is that simple.       
Moderna vaccine storage, handling and ULT freezer use
The Moderna vaccine vials hold 10 doses of vaccine and are a little larger than the Pfizer vaccine vial.  The Moderna vials ship in groups of 10, in packaging designed specifically for this vaccination effort.  If storing the vaccines for longer than 30 days, they must be placed in a freezer between -15°C to -25°C. 
For the portable ULT25NEU freezer, racks are not recommended.  The shipping boxes fit easily into the small portable freezer and stack nicely, removing only 10 vials at a time for administration. 
For the undercounter SU105UE freezers, Stirling Ultracold recommends 6 of the DR-342 racks to maximize freezer space and limit administrative thawing to only the vials that will be used.  This eliminates any vaccine waste.
For the upright SU780XLE freezers, mostly used at central repository hubs, Stirling Ultracold recommends the 780-DKIT3 rack system.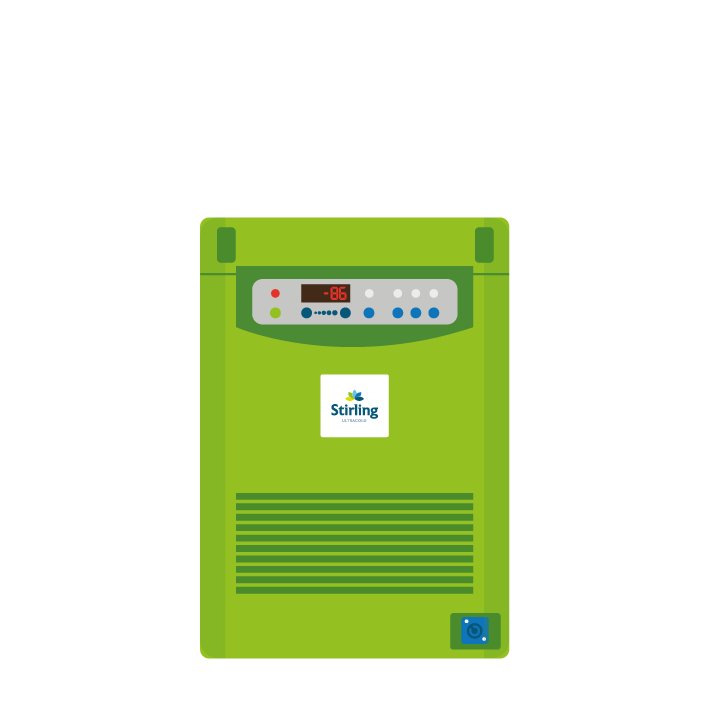 PFIZER VACCINE WITHOUT CUSTOM RACKING
Not recommended –
requires vial storage on side
PFIZER VACCINE WITH CUSTOM RACKING
8,400 doses
1,400 vials
7 pizza boxes
14 bundles
MODERNA VACCINE STORAGE SUGGESTION
5,400 doses
540 vials
54 boxes
No racking required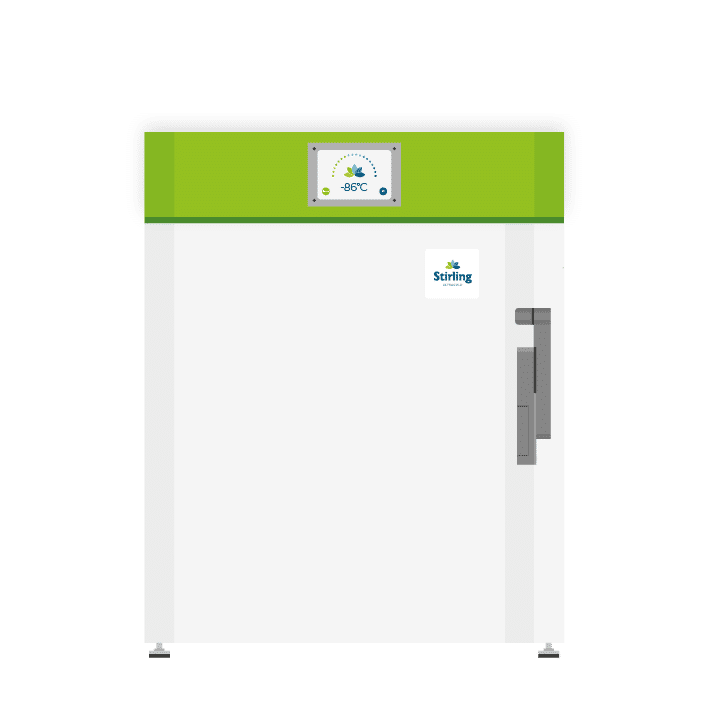 PFIZER VACCINE WITHOUT CUSTOM RACKING
11,700 doses
1,950 vials
10 boxes
2 bundles
PFIZER VACCINE WITH CUSTOM RACKING
36,000 doses
6,000 vials
30 pizza boxes
6 bundles
MODERNA VACCINE STORAGE SUGGESTION
10,800 doses
1,080 vials
108 boxes
6 x DR-342 racks hold 18 boxes
Learn best practices from these vaccine distribution success stories