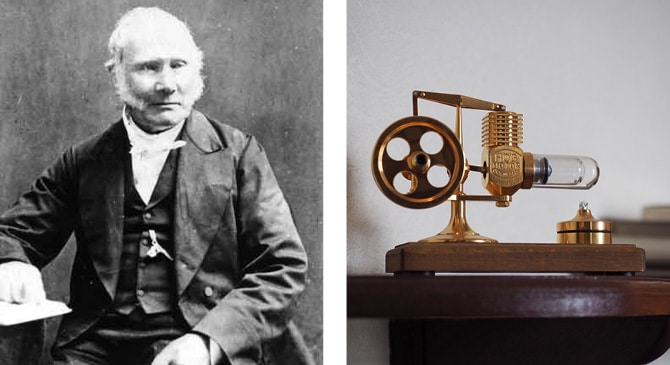 Robert Stirling founded the idea and was awarded a patent for the first Stirling engine in 1816. From there, his invention was first used as a cooling tool in 1834 by astronomer John Herschel. Then John Gorrie, a Scottish immigrant living in the U.S., became recognized in 1876 as the first person to use the engine to produce ice. These three men are considered by us to be the founding fathers of the Stirling engine. They charted the way that has led us to produce the industry's most energy-efficient ultra-low freezer.
Advancing Stirling Technology
Over time, advancements in Stirling cycle machines became less frequent and these machines almost disappeared by 1900, until they were rediscovered in the 1940s by researchers at Philips in The Netherlands. Philips used pressurization to significantly improve power density.
In 1946, under the direction of J. W. L. Köhler, Philips applied the Stirling cycle for deep temperature use in the generation of liquefied gases (US Patent 2,907,175, March 14, 1955).
Invention of the Free-Piston Stirling Engine
Various free-piston Stirling engine configurations were invented and developed in the 1960s. These machines required no mechanical linkages since the moving parts are either driven by internal gas pressure or a linear motor/alternator. Later developments included gas bearings where both the piston and displacer are supported on helium bearings, thus eliminating the need for any lubrication whatsoever.
Establishment of Global Cooling, Inc.
In 1995, Global Cooling Inc. was established to commercialize a line of free-piston Stirling cooling engines. The company's first production unit, M100, was sold as an OEM product to other manufacturers to use in a range of devices used in aerospace, electronics, energy and other industries.
In 2004, Twinbird Corporation (Japan) working under license from Global Cooling, released the world's first consumer product cooled by the free-piston Stirling engine. This product, originally sold as a cooler for recreational use, was the precursor to the current line of portable freezers and refrigerators. Twinbird and Global Cooling continue an active partnership.
In 2009, Global Cooling identified the significant cooling performance and energy advantages of the free-piston Stirling technology over ultra-low cascade compressor based refrigeration systems used in life science, pharmaceutical and clinical hospital research industry.
In 2010, the company decided to establish a manufacturing facility to build a competitive line of ultra-low temperature storage freezers to meet a growing demand from biorepositories, pharmaceutical companies, hospitals, and beyond.
Manufacturing Facility
In April 2011, the company moved into a 50,000 sq.ft. facility in Athens, Ohio, continuing the legacy of quality ultra-low freezer manufacturing already established in Southeastern Ohio.
Here, the company builds all its free-piston Stirling engines and conducts direct training of authorized service personnel who are certified to support Stirling Ultracold products in the field.
Award-Winning Product Development
In January 2013, after significant beta testing at customer sites across the US, Stirling Ultracold introduced the Model SU780U to fulfill a market demand for a large (27.5 cu.ft.) upright ultra-low freezer to replace conventional cascade freezers. Successful deployment of the SU780U and independent customer performance testing generated critical praise from biorepository and pharmaceutical experts worldwide.
In May 2013, Stirling Ultracold received the International Society for Biological and Environmental Repositories' (ISBER's) Outstanding New Product of the Year Award for its Model SU780U ultra-low temperature freezer. The award, given to one product annually, recognizes the company's development and introduction of the world's most energy-efficient ultra-low temperature freezer, the Stirling Ultracold SU780U. A year later, the second-generation SU780UE was recognized by the International Institute for Sustainable Laboratories (I2SL), by receiving their 2014 Go Beyond Award.
Introduction of Next-Generation SU780XLE Freezer
In the Fall of 2016, we introduced the next phase of the Stirling Ultracold freezer revolution. The SU780XLE was not only improved upon the award-winning energy efficiency and sustainability of the SU780U/UE, but also advanced ULT cooling performance and reliability to better protect biological samples over the entire life of the freezer. The XLE's new ergonomic handle, cabinet design and enhanced performance continued our industry leadership in sample integrity, sustainability and lower total cost of ownership.
VWR Distribution Agreement
At the start of 2017, Stirling Ultracold entered into an agreement with VWR to make our product available to North American commercial, academic and non-profit research organizations through VWR Representatives. This relationship has broadened our presence in North America and enhanced VWR's portfolio with the industry's most energy-efficient freezer.
Waste Reduction Efforts
At Stirling, following zero waste principles in our Athens, OH facility is not a mere symbol or marketing pitch. It's a core value. We strive to bring sustainability and energy efficiency to the research community because it is the right thing to do for the environment, and we believe our waste reduction efforts are an extension of the products we provide. Every ultra-low temperature freezer we manufacture supports climate action goals by using 100 percent natural refrigerants, has one of the lowest energy consumption rates and the smallest carbon footprint. In our facility, our waste reduction efforts include minimizing waste that is sent to the landfill or incineration through avoidance, reuse, recycling and composting.