Ultra Low Temperature Chest Freezers
Ultra-low chest freezers, or ultra-low temperature (ULT) chest freezers, from Stirling Ultracold have a temperature control of -20°C to -86°C and can store tissue samples, proteins, DNA, enzymes, chemicals, and other biological specimens onsite at a clinic. Stirling Ultracold's ULT chest freezer stands apart from others in the industry because it is truly portable. It is the smallest and most compact ULT storage solution offered by Stirling targeting clinicians with ULT storage requirements but limited available space.
It is becoming more common for small ultra-low chest freezers to be used for quick access, and quick cooling while maximising interior storage capacity. Stirling Ultracold's portable ultra-low chest freezers use the same proven Stirling engine technology incorporated in the larger models and have been proven to provide safe long-term storage for items that may need to be accessed more frequently. These ultra-low chest freezers can be stored on a tabletop, underneath a bench, or right in the clinic office for simple storage.
The Portable ULT25NEU is perfect for bringing cold chain samples and biologic storage directly to the patient point of care, worldwide. At a volume of 25 liters (0.9 cu.ft.), the uniquely portable and reliable ultra-low storage chest freezer delivers safe ULT storage in even the most remote communities and environments.
With its compact and proven technology, the temperature-controlled ultra-low chest can be used for patient care, testing, or specimen collection in nearly any location.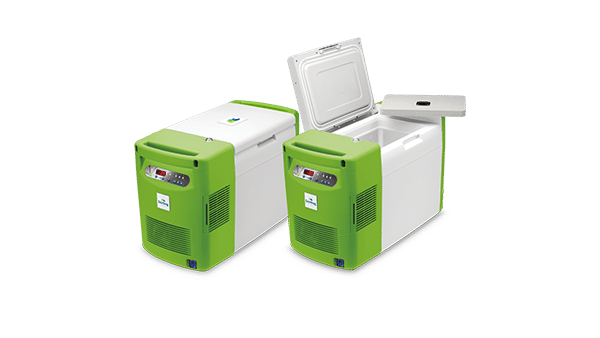 Ultra Low Laboratory Freezer – Portable ULT25NEU
Ultra-low chest freezers are becoming more essential in medicine. Stirling Ultracold ultra-low chest freezers are versatile and built for long-term storage in both biotechnical and biological science sectors. Ultra-low chest freezers store various materials, including tissue samples, bacteria, enzymes, proteins, bone marrow, cells, DNA and more. 
Our ultra-low chest freezers are perfect for bringing cold chain samples and drug storage to patients in remote locations. We've designed each ultra-low chest freezer with simple maintenance in mind. The Portable ULT25NEU is ideal for use in compact storage situations where an upright option may not be suitable. 
Pros of Chest Freezers
Choose the ultra-low freezer that will maximize usability and efficiency. Determined temperature set points are reached sooner and temperature recovery is faster after door openings because heat rises away from the interior of a chest freezer cabinet. 
Preserve and deliver biological products anywhere in the world.
Manual defrost options for high-quality refrigeration systems.
Collect temperature-sensitive samples at remote clinical sites.
Deploy long-term storage anywhere there is a power outlet, including vehicles. 
Pros of Upright Freezers
Upright storage options are the most reliable and energy-efficient options available. 
Decrease operating costs for large volumes of samples.
Save laboratory space with more efficient upright freezer design.
Reduce freezer energy use with a more efficient engine.
Interested in our laboratory chest freezer? Additional information can be found here. 
MAKE CONTACT >
To find out more about Stirling Ultracold's Covid-19 ready ULT freezers please complete this short form here >

DOWNLOAD (Below)
1. ULT25NEU Brochure (download) >
Ultra-low Temperature Freezers
Stirling Ultracold is the first to bring revolutionary ultra-low storage to a compact, beach-cooler design. Our freezers are the first to use natural refrigerants, and the Stirling engine technology allows for a wide range of operating temperatures. Stirling Ultracold changes the industry through fundamental enhancements in sustainability and innovation. Discover how our ultra-low chest freezers can help you today.